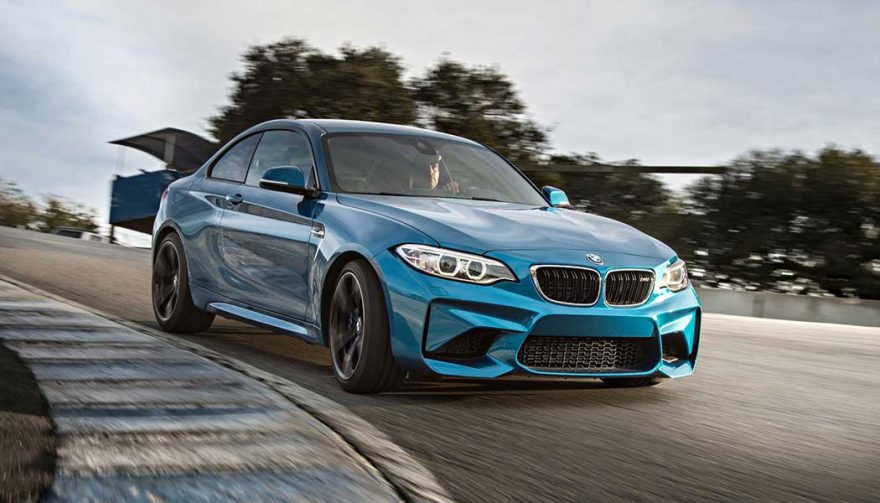 The 2017 BMW M2 gets 365 horsepower from a turbo 3.0-liter inline-six.
The 13 Best Luxury Cars in America Have It All, And Then Some
A massive estate, a gorgeous Sea Ray yacht, a Bora Bora vacation home – they're all things that are a vision of wealth and luxury, and so are the best luxury cars.
But luxury cars aren't just for those with maidservants and a butler at their beck and call. True, there are some uber-expensive pipe dream cars on the market, and you might even see a few of them right here. But luxury doesn't have to always break the bank.
Some carmakers have the right combination of luxury and affordability while others go for the gusto with each and every model. And whichever end of the spectrum you prefer, you'll find it in these 13 best luxury cars in America.
BMW M2
Getting back to the roots of what makes the M coupe special is the 2017 BMW M2. The performance you can expect in the compact luxury car is unreal with 365 horsepower from a turbo 3.0-liter inline-six. With a dual-clutch gearbox, the M2 can sprint to 60 mph in just 4.0 seconds. But the BMW M2 is more than that.
The interior is dressed in Dakota Black Leather, Polar Blue contrast stitching and elegant Black Panel technology for dramatic flair. With flashes of carbon fiber and an incredibly tight fit and finish, along with the some truly impressive driver-assistance technologies, the BMW M2 is highly regarded as one of the 10 best luxury cars.
Audi S8
Like you'd expect from a luxury car starting at $116,000, the 2018 Audi S8 is as much a work of art as it is an overtly functional vehicle. It makes a statement with a sexy, slender and athletic shape despite its full-size status. The S8 is an iconic masterpiece with the Audi Singleframe grille and carbon-fiber accents all around. The interior is even more stunning with diamond-patterned leather upholstery, a wrap-around dash design and a unique T-style shifter.
But the 2018 Audi S8 is more than just a pretty face and fancy dress-up. It's a performance luxury car through and through. The turbocharged 4.0-liter TFSI engine makes a monstrous 605 horsepower and 517 lb-ft of torque, propelling the S8 down the straightaway from 0 to 60 in just 3.7 seconds. It rides like a dream on adaptive air suspension for a serene experience, and the Quattro All Wheel Drive system is standard equipment for the ultimate in control.
View on One Page