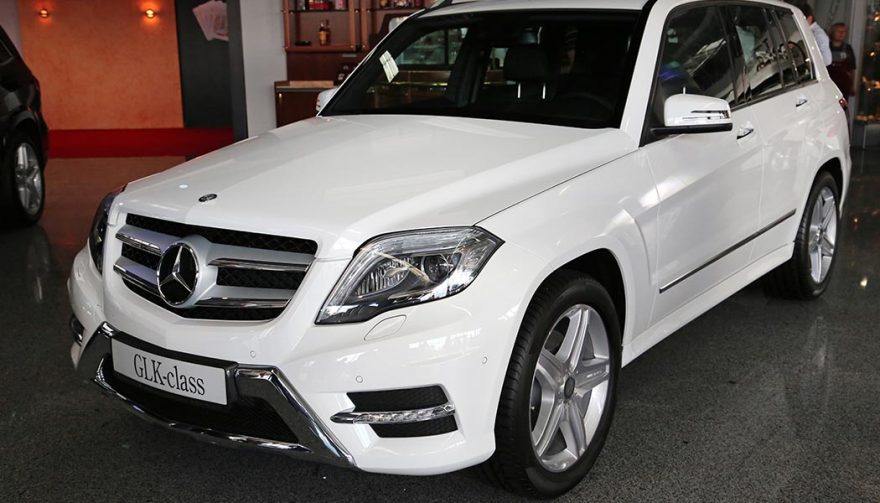 SUV fuel economy has changed a great deal from their gas-guzzling days.
SUVs and Fuel Economy Can Go Together: Here's Proof!
When you think of fuel economy, chances are good that SUVs don't immediately jump to the top of the list. You might think compact cars, or maybe hybrids. You might imagine vehicles like the Mini Cooper, or perhaps the Fiat 500. However, there's no reason that a list of the most fuel-efficient vehicles shouldn't include at least a few SUVs. They've evolved a great deal from the gas-guzzling road-warriors of yesteryear.
The Most Fuel-efficient SUVs
Below, you'll find a list of some of the most fuel efficient SUVs on the market, as well as what you should know about each. Note that this list contains both "true" SUVs and crossovers.
Mercedes-Benz GLK-Class
Ok, so this is a diesel engine, but you'll find that the fuel economy is excellent, and while you'll pay a little more at the pump for diesel than regular unleaded, it's a worthwhile tradeoff. The GLK manages to deliver 24 mpg in the city and 33 mpg on the highway, combined with the European craftsmanship and precision engineering you expect from Mercedes. While the SUV is boxy, it's definitely an iconic vehicle and might be the right choice if you prefer German imports.
Nissan Rogue
Nissan has been manufacturing some of the world's most fuel-efficient vehicles for quite a while now, and the company is finally getting some recognition for models other than the Leaf. For instance, the Nissan Rogue is a compact SUV that manages to deliver 26 mpg in town and 33 mpg on the highway without cramping your style. There's enough room inside to fit your family in comfort with space left over to haul your gear.
Chevy Trax
Like its name, the SUV isn't conventional. It's a compact crossover SUV, so if you're looking for maximum cargo or passenger space, you'll need to look elsewhere. With that being said, if fuel economy is your main goal, you'll find that the 26 mpg for in-town driving and 34 mpg for highway driving offered here definitely fits the bill.
Honda CR-V
The CR-V has evolved quite a bit over the last decade or so, although it's still a compact model. The 2015 CR-V offers 27 mpg in the city and 34 mpg on the highway. It's also backed by Honda's outstanding reputation for reliability and value holding capabilities (Honda is actually rated just as reliable as Toyota, if not slightly more so). There are also plenty of upgrades available depending on your needs and your budget, while the price remains relatively affordable.
You May Also Enjoy:
Be Ready for Anything with the New Subaru Crosstrek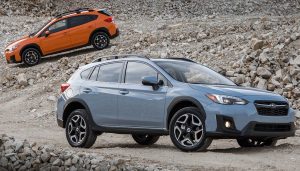 Lexus RX 450h Hybrid
If you want excellent fuel economy, lots of luxury, and the benefit of hybrid technology, then the Lexus RX 450h Hybrid might be the right choice. It manages to deliver 32 mpg in town and 28 mpg on the highway (remember – hybrids are designed to provide better fuel economy for city driving, rather than on the open road). It also offers plenty of interior space, and Lexus' incomparable engineering and design, as well.
Subaru XV Crosstek Hybrid
While the regular XV Crosstek might be one of the most affordable SUVs on the market, the hybrid version is one of the most fuel friendly out there. It delivers 30 mpg in the city and 34 on the highway, one of the few hybrids on the market to actually offer better performance on the highway than in town. It's also less expensive than many other models (including some conventional engines), and it delivers a decent amount of space combined with excellent handling characteristics. If you're interested in a conventional engine, the XV Crosstek Premium offers 19 mpg in the city and 34 mpg on the highway.
Dodge Durango
The first full-size SUV on this list, the Dodge Durango might not deliver the fuel economy of some of the other options covered, but it does a good job for a big vehicle. It offers 18 mpg in the city and 25 mpg on the highway, which is actually as good as or better than many compact SUVs. You also get a large V6 engine with almost 300 horsepower, and all the interior space you might want, combined with seating for up to seven people.
Land Rover Discovery Sport
You can take advantage of Land Rover's legendary performance and still save some gas. The Discovery Sport offers 20 mpg in the city and 26 mpg on the highway. While that's not "amazing" fuel economy, it's very good for the segment. The turbocharged 4-cylinder engine also offers plenty of get up and go when it matters.
Volkswagen Touareg
Delivering 20 mpg in town and 29 mpg on the highway, Volkswagen's SUV delivers descent fuel economy along with lots of interior space. You'll also find that the V6 engine can deliver up to 240 horsepower when it matters most, and the 8-speed automatic transmission is smooth and refined.
GMC Terrain
A relatively large vehicle, the Terrain manages to offer some decent fuel economy. It provides 22 mpg in town and 32 mpg on the highway, but you'll also enjoy lots of interior space. The 2.4-liter 4-cylinder engine only produces 182 horsepower, though, so acceleration might be a little less aggressive than you'd like.
Buick Encore
Buick hasn't really made headlines lately, but the company is looking to change that. They've produced a range of all new vehicles, including the Encore, which offers 25 mpg in town and 33 mpg on the highway. It's also a compact, sporty SUV that still manages to deliver decent interior room.
There are plenty of other SUVs on the market that offer decent fuel economy, including a few full-sized vehicles. However, the emerging trend seems to be to provide mid and compact SUVs with fuel-efficient yet powerful engines capable of handling daily driving needs. Note that the more "off-road" oriented the SUV is, the lower the fuel economy in most instances. You'll need to determine exactly what off-road features matter most to you and then choose your model accordingly.