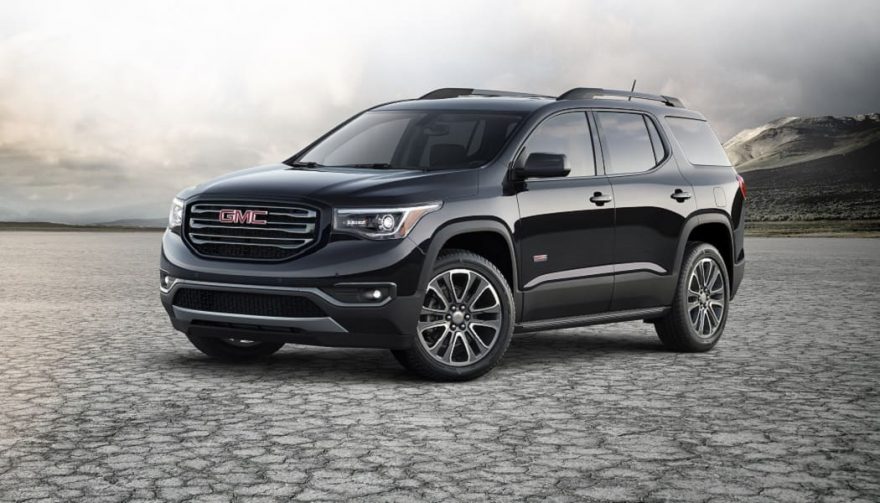 The GMC Acadia has a total domestic content of 90 percent.
Think Your Car Is Made in America? It's Complicated
The term "made in America" gets thrown around a lot. The idea is if we buy American cars made by Americans, we will protect the domestic auto industry. And by extension, protect the national economy.
That's a nice idea, but the notion is antiquated and complicated. There was time when auto manufacturers built vehicles exclusively with domestic parts and labor. That's not the case any more, and determining what "made in America" means has become a tad tricky.
For example, last Fourth July NASCAR put on a promotional race at Daytona that featured the Chevrolet SS, the Ford Fusion and the Toyota Camry. Seemingly, this was a race between two American cars and a Japanese car.
It may come as a surprise to some, but the Toyota Camry uses more American components and labor than the other vehicles. The Kentucky-made Camry has more "Total Domestic Content" than either of the American brands.
So is the Camry made in America?
Sorting Out the Parts
In 2015 there were 17.5 million cars and trucks sold in the U.S. The industry directly employs 1.5 million workers and indirectly supports 5.7 million more. The domestic automobile industry is a really big deal.
You May Also Enjoy:
2018 Toyota Camry Rolling off Assembly Line in Kentucky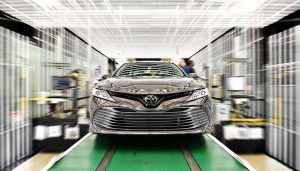 What really matters to a nation's economy is not where the profits end up but where the paychecks are paid. As a result, the more local people involved in a car's rendering, the better the local and national economies fare.
But with globalization, how do you know which models are mostly made domestically?
Enter the Kogod School of Business. This Washington D.C. school performs an extensive study of all models sold in the United States each year. With this data, they create a weighted index that takes into account multiple aspects of vehicle design, development and production to determine the percentage of "domestic content" for each.
Using this Total Domestic Content (TDC) index, you can identify which cars are mostly made in America and which are not. So let's have a look.
Made in America: Mostly, Somewhat and Not So Much
According to Kogod's index, three vehicles tie for "most American content" with a TDC of 90 percent. Those three are all full-size SUVs from GM: the Buick Enclave, Chevrolet Traverse and GMC Acadia.
The Ford F-150 has a TDC of 85 percent. Next, with a TDC of 83 percent, is the Chevrolet Corvette. At 82.5 percent, you have the Cadillac Escalade, Chevrolet Equinox, Chevrolet Impala, Chevrolet Malibu (and Malibu Limited) and GMC Yukon.
The first "foreign" car on the list, the Honda Accord, has a TDC of 81 percent. Beyond that, the Jeep Wrangler Unlimited, Ford Taurus, Buick Verano, GMC Canyon, and the Chevrolet Cruze LTD and Colorado all have an LTD of 80.5 percent.
Two of the most quintessential American cars, the Ford Mustang and Chevrolet Camaro, have a TDC of 80 percent. As do the Explorer and the Cadillac ATS, CT6 and CTS.
And then we get to where "made in America" begins to take on a serious international flavor. Vehicles holding a TDC of 78.5 percent include the Jeep Cherokee, Honda Pilot and Odyssey, and Toyota's Sienna and Camry.
The Ford Expedition has a TDC of 77 percent. Finally, the tenth "slot" is crowded with nine vehicles scoring 76 percent. These include the Lincoln MKX and Navigator, the Acura RDX AWD and 2WD, the Chrysler 200, the Honda CR-X and Civic, and the Toyota Highlander and Avalon.
Some American Surprises
You might think that vehicles scoring a TDC of 75 percent or less would be predominantly foreign brands, right? Not quite, there are a few American surprises that demonstrate just how complicated and interdependent the auto industry has become.
Check these out:
The Dodge Challenger and Grand Cherokee SRT both have a 75 percent rating, along with the RAM 2500 tough truck. This is what happens when you make Chargers and Alpha Romeo cars.
Ford has four popular models with 40 percent or more "imported content." These are the Focus with a TDC of 60 percent, C-MAX with 59 percent, the Fusion at 49 percent, and the Fiesta with a TDC of just 15 percent.
Chevrolet has five vehicles with relatively low domestic content. The popular Silverado is the "most American" of the bunch with a TDC of 72.5 percent. The Spark EV has 63 percent and the Sonic has 56.5 percent TDC.
So who has the least domestic content? Not surprisingly, vehicles with a TDC of 1 to 3.5 percent include upscale models of BMW, Audi, Volvo and Lexus.