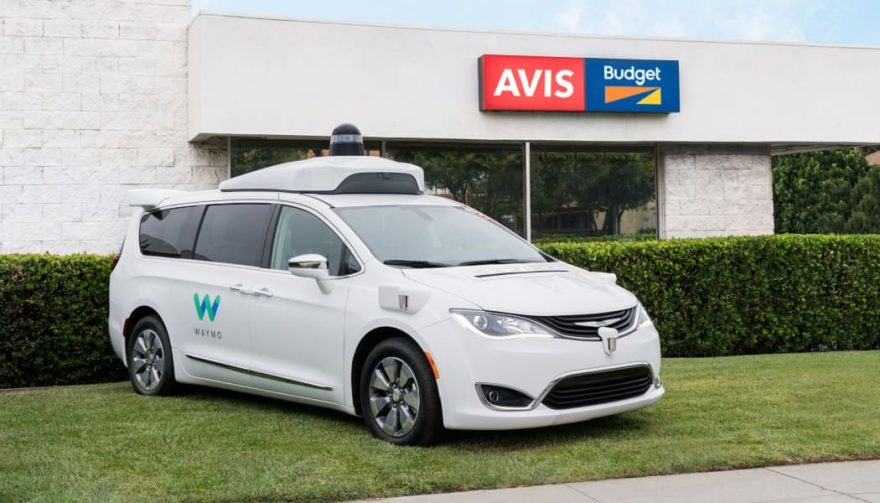 Avis Budget Group will service Waymo's self-driving cars
Avis Budget Group Partners with Waymo on Self-Driving Car Program
Parsippany, N.J. – Avis Budget Group is entering into a partnership with Waymo to service the Google self-driving car company's fleet at Avis Car Rental and Budget Car Rental locations.
In a release, Avis Budget Group said the collaboration is designed to support Waymo's growing autonomous vehicle fleet. The deal also includes Waymo's early rider program, a public trial of its self-driving cars in Phoenix.
Waymo recently announced that it is adding hundreds of Chrysler Pacifica minivans to create a 600-vehicle fleet of self-driving cars for the pilot program.
This partnership will allow Avis Budget Group to service Waymo's growing number of cars on the road. The service will ensure Waymo's self-driving vehicles will be road-ready around the clock.
Under the multi-year agreement, Avis Budget Group will enhance selected rental facilities to offer automotive services and secure parking for Waymo's fleet.
Avis will offer a wide range of services for Waymo's self-driving cars. Along with cleaning, oil changes, tire rotations and other necessary maintenance, the company will also order and install parts as needed.
Advantageous Partnerships
Waymo CEO John Krafcik says the partnership is ideal as the company expands to other locations given Avis's footprint. Avis Budget Group has more than 11,000 locations in nearly 180 countries around the world.
"With members of the public using our growing fleet of self-driving cars, our vehicles need standard maintenance and cleaning so they're ready for our riders at any time of the day or night," said Waymo CEO John Krafcik. "Avis Budget Group is an ideal partner to provide fleet support and maintenance. With thousands of locations around the world, Avis Budget Group can help us bring our technology to more people, in more places."
The partnership adds a prestigious client to Avis's portfolio. Further, it gives the car rental company access to a highly anticipated new vehicle technology.
"We are excited to partner with Waymo, the self-driving technology leader that is changing the mobility landscape in a profoundly transformative and beneficial manner," said Larry De Shon, president and CEO of Avis Budget Group.
"Not only does this partnership enable us to leverage our current capabilities and assets, but it also allows us to accelerate our knowledge and hands-on experience in an emerging area as Waymo-enabled self-driving cars become available in the marketplace."
The technology would certainly benefit Avis subsidiary Zipcar, one of the world's leading car-sharing network.
This is the second high profile collaboration Waymo has announced recently. In May the Google spinoff said it was partnering with ride-hailing company Lyft.