Nissan 300ZX
An oldie but a goodie is the Nissan 300ZX, sold in the US from 1984 to 2002. Its shape, substance and power is ahead of its time, and it quickly became one of the most popular cars to build up as a tuner. The best model is the second-gen 300ZX R32, built with a 3.0-liter turbocharged engine or a high-powered 3.0-liter twin turbo.
Today, there are still mods available for nearly every purpose, although finding the car is getting harder. You can upgrade turbochargers, add a body kit, lower the suspension, or install Recaro racing seats.
Mazda RX-7
The most unique car here has a fierce following. The Mazda RX-7 is one of the best tuner cars because of its engine: a Wankel rotary engine, which is where the name "Rotary Experimental-7" comes from.
Related Search Topics (Ads)
The Mazda RX-7 had three distinct generations in its run from 1978 through 2002. Each was powered by either a 12A rotary with 1.1 liters of displacement or a 13B with 1.3 liters of displacement. Horsepower on non-turbo models started at 100 hp and went up to 160 hp, but twin-turbo 1.3-liters made up to 280 hp from the factory.
You can do what you want with a Mazda RX-7. Install a big spool, put in an LS1 V8, or leave it as is. It's a fantastic tuner car that can push over 500 horsepower safely from its two-rotor engine without a problem. And no, they are not as unreliable as everyone thinks.
Toyota Supra
There have been a few awesome Toyota tuners over the years – the AE86 and MR2, for example – but the most popular in America is the Toyota Supra. Paul Walker's character drove one in the original "The Fast and the Furious." The two-door, rear-wheel-drive Supra developed a cult-like following after that flick especially. The 3.0-liter twin-turbo models made 320 hp right off the showroom floor. But that was just a starting point.
Fuel system mods, turbocharger upgrades, lowering kits, stance kits, and much more are available for the Toyota Supra. No matter what your purpose for a tuner car, you can build it with a Supra.
View on One Page
You May Also Enjoy:
Miata RF Launch Edition Is The Show Car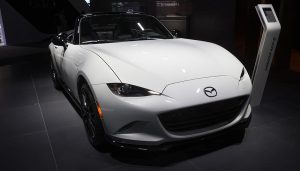 Related Search Topics (Ads)