Ford Taurus vs Chevy Impala vs Toyota Avalon: Full Size Face Off
Let's talk about the Ford Taurus vs Chevy Impala vs Toyota Avalon full size sedan comparison. Believe it or not, there was a time when most American families had one breadwinner and one car. That car had to be big enough to transport the entire family. Of course with bench seats and no seat belt requirement, you could easily get a family of six and the family dog in the "family sedan."
Station wagons were a popular alternative to the family sedan and seriously challenged the segment for a while. Today station wagons sit on 19-inch wheels with 4×4 powertrains and they are called SUVs. Competition has gotten heavy with all kinds of coupes, sedans, crossovers, minivans and sports cars abound. And the family sedan (now called the full-size sedan) continuous to hang on, although understandably not as popular as it once was.
The three best selling full-size sedans are the Toyota Avalon, Ford Taurus and Chevrolet Impala. If you find yourself in the market for a car that can handle a family of five, you might consider one of these three vehicles. But which is the best deal? How much difference can there be in a class where the top-rated feature is trunk space?
We'll give you a head-to-head comparison between the Ford Taurus vs Chevy Impala vs Toyota Avalon. You can be the judge.
2018 Toyota Avalon: MSRP $33,300
You know that Toyota is going to rank near the top of any class it competes in, and the Avalon is no exception. If you are looking for a daily ride with lots of room or a family hauler, the Avalon is a decent pick.
Build quality and fit are typical Toyota, meaning excellent. The Avalon has a FWD powertrain that comes standard with a punchy V6 engine that puts out 268 horsepower to a six-speed automatic transmission. A hybrid version is also available. It pairs a 4-cylinder gas engine with an electric motor generating a total of 200 horsepower.
The suspension delivers a "relaxing" ride (terms like relaxing, comfortable, and stable are frequently used in describing this class), and handling is neither crisp nor sluggish but just right.
The interior is a nice piece of work. Upgraded materials, such as leather seating, are standard. Features include dual-zone climate control, Bluetooth connectivity, a multi-information display in between the gauges, keyless entry and start, rearview camera, and Toyota's Entune infotainment system with a 7.0-inch touchscreen.
The NHTSA granted a five-star rating to the Avalon. Toyota packs the ride with a ton of standard safety equipment. Safety ranks high with Toyota, and the Avalon comes equipped with adaptive cruise control, lane departure warning with steering assist, automatic high beams, forward collision warning, pedestrian detection, and automatic emergency braking.
You May Also Enjoy:
Toyota Avalon: Passengers Will Love It, Probably Not the Driver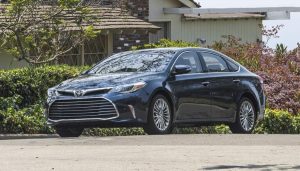 Related Search Topics (Ads)
It's a roomy car, it has a big trunk, plenty of acceleration, carloads of safety technology, an EPA rating of 21 mpg city and 30 mpg highway, and a competitive base price.
The all-new fifth-generation 2019 Toyota Avalon will be available in "late spring of 2018." So if you're serious about getting a new Avalon, you may want to wait until more details are available.
2018 Ford Taurus: MSRP $27,595
The two redeeming features of the 2018 Ford Taurus are the same as the 2013 model, because that's the last time the model was refreshed. These features are a big trunk and a cheap price. In most every other measurement, the Ford Taurus falls short of the competition.
Probably the most noticeable shortcoming is cabin size. The Taurus is advertised as a full-size sedan, but you would be hard pressed to get five adults packed in for a ride of longer than a few blocks. Maybe the extra big trunk was meant to be alternative seating.
The cabin looks dated. Cabin materials are not the same quality as the top competitors. However, Ford's popular SYNC 3 infotainment system with Apple CarPlay and Android Auto functionality is available.
Other time-tested Ford technologies have a home in the Taurus as well. It's not that the Taurus is a bad car, it's just that the rest of the field has moved on and Ford's big car hasn't kept up.
The Taurus is a FWD ride. The base powerplant is a somewhat lethargic V6 that generates 288 horsepower handled by a 6-speed transmission. The car is heavy and as a result it feels bulky and awkward in tight turns. The extra weight doesn't help mileage either. Taurus rates an EPA 16 mpg city and 27 mpg highway, which is not as efficient as the competition.
The Taurus makes you really, really miss the Crown Victoria.
2018 Chevrolet Impala: MSRP $27,895
If Chevy would dump the standard 2.5-liter 4-cylinder that comes standard and replace it with the optional 3.6-liter V6 that pumps out 306 horsepower, it would own the full-size segment. Everything else about the Impala is impressive.
The Impala epitomizes what the term full-size means. It's huge inside. Plenty of space in the front, crazy big space in the back and a cavernous trunk. And your passengers, all four of them, can be six foot tall adults. Chevy continues to upgrade interior materials giving the car a much more luxurious feel than its price tag suggests.
Little touches of luxury that come standard on the 2018 Impala include onboard Wi-Fi, Bluetooth, keyless entry and 18-inch wheels. Other impressive features include standard eight-way power seats with lumbar support on the driver's seat, plus Apple CarPlay and Android Auto.
Safety highlights include 10 airbags, rearview camera, OnStar and two free maintenance visits during the first two years or 24,000 miles. Nice touch.
Handling is easy and the ride is comfortable. You won't confuse the suspension tune with a performance ride, but like we mentioned earlier, "relaxed" is a style for this class. The Impala, like most of the full-size leaders is a FWD only vehicle. If your heart is set on an AWD car you'll need to look elsewhere.
The exterior is, dare we use the term, exciting. It's a sleek looking ride with a contemporary design that makes it an eye catcher. And it has a ton of exterior colors to choose from.
It's spacious, the base engine is adequate, but the optional V6 is worth the extra bucks. It rides great, handles great, packs some serious technology, and gets 22 mpg city and 30 mpg on the highway. This is a full-size "family sedan" you definitely want to consider.
Ford Taurus vs Chevy Impala vs Toyota Avalon: The Verdict?
Unless you're one of those drivers who has to have a Ford, you'll want to pass on the Taurus. It's lacking in all the areas compared to the Avalon and Impala.
You've got some decisions to make choosing between the Impala and Avalon. On one side, you get Toyota's tried-and-true reliability, but you also get a more expensive ride. On the other side, the Impala is a very handsome car with a cheaper price tag and great technology, even if you opt for the V6.
However, if space is your guiding concern, you should go with the Chevy Impala.