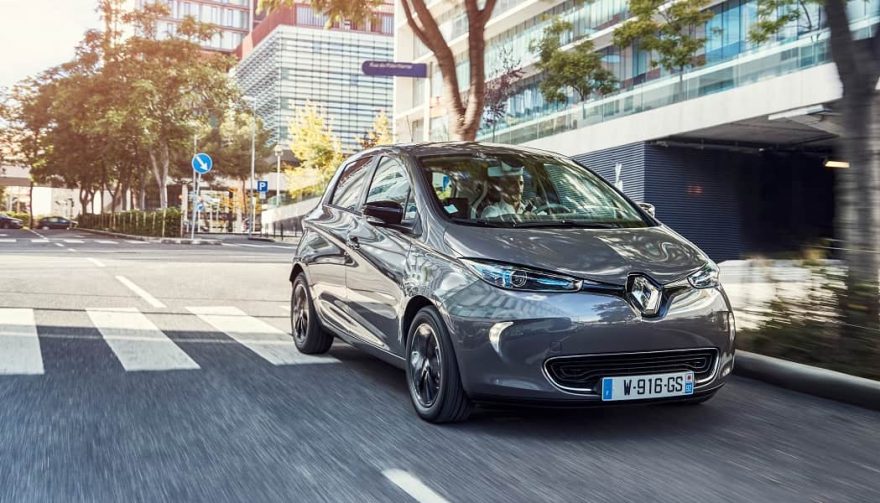 The all-electric Renault Zoe is manufactured in France
France Says Au Revoir to Gas and Diesel Cars by 2040
Paris, France – France will ban the sale of gas and diesel vehicles by 2040. The administration of newly elected French  president Emmanuel Macron announced details of the plan today.
The goal is to meet the European country's self-imposed emissions targets under the Paris climate agreement.
Since U.S. President Donal Trump announced he was pulling the United States out of the Paris Agreement in April, Macron has made moves to establish himself as a global leader on fighting climate change.
"Veritable Revolution"
The new France Ecology Minister, Nicols Hulot, said the forthcoming ban was a "veritable revolution."
"We are announcing an end to the sale of petrol and diesel cars by 2040," Hulot said during a conference announcing the new French government's climate and energy policies.
The plan also includes a new carbon tax and ban on drilling for new oil and gas in the country. It also reiterates President Macron's campaign promise of a carbon-neutral France by 2050.
Hulot said the automobile directive would be a "tough" objective for automobile manufacturers. However, he said his country's industry was prepared to make the transition away from traditional car engines.
"Our carmakers have enough ideas in the drawer to nurture and bring about this promise," he said, "which is also a public health issue."
Few Details
Hulot has been a popular environmental activist in France for many years. He was one of many political newcomers Macon awarded with high-level government posts.
During the announcement, he didn't provide many details on the gas and diesel ban. It is unclear whether the ban applies to hybrid cars or cars solely powered by gas or diesel. He also didn't provide a roadmap to implementing the ban or how it would be enforced.
Similar Initiatives
Other European countries have made moves to ban cars with traditional combustion engines.
Last year in the Netherlands, Dutch politicians introduced legislation to ban gas and diesel cars by 2025. Some states in Germany have similar ambitions for a 2030 ban.
Outside of Europe, India is floating the idea of full gas and diesel cars ban by 2030.
Big Week for Electric Cars
The announcement from French officials comes during a week with big news for the electric car industry.
The week started off with Tesla Motors CEO Elon Musk tweeting that the highly anticipated Model 3 mass-market electric car would go on sale at the end of the month.
And just yesterday, Volvo announced the company would use only electric or hybrid engines in all new models beginning in 2019.
You May Also Enjoy:
All Electric Lucid Air Prototype Hits 235 MPH in Latest Speed Test