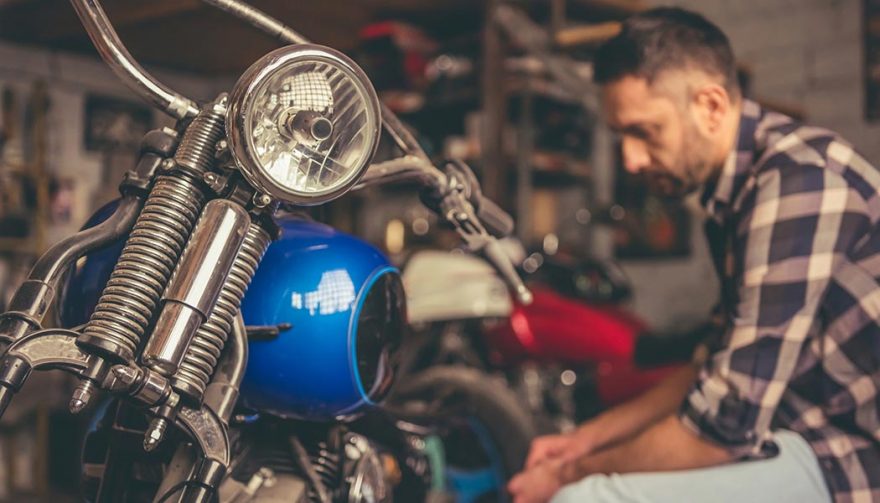 There are a few different routes you can take when building a custom motorcycle
Learning to Build a Motorcycle? Consider These Tips First
Learning how to build a motorcycle is the beginning of a great hobby, or maybe even a source of income.
Is there an easy way to do it? Maybe, but beginners won't know what it is. Experience can be a hard teacher. But other people's experience is kinder and costs less.
Let's look at some first steps in learning how to building a motorcycle that will help you organize your thoughts, time and budget.
Your First Build Won't be Your Last Build
You will probably enjoy building the bike more than actually riding it. So accept the fact that you will accumulate new tools, equipment and spare parts along the way. All that stuff will give you a head start on your second build. It's a natural progression.
Also, the process of creating and learning will give you new ideas that you will want to include in future builds.
Allow for Mistakes to be Made
Since it's your first project and you're just learning how to build a motorcycle, you will make mistakes along the way. Plan for them to happen. Then you won't get too discouraged when you've wasted some time or money.
You will learn from mistakes, and those are very valuable lessons.
Set Realistic Expectations
A good goal would be to build a nice looking, fully functional bike. A bad goal would be trying to build an award-winning show stopper or the fastest motorcycle on the street on your very first try. That's not realistic.
Be reasonable with respect to your skill levels and budget constraints. Time is a scarce commodity, so plan to spend it well. Many would-be builders grow discouraged by setbacks and then abandon their projects half built.
For that reason, simple is better when it comes to design, fabrication and parts that you buy from catalogs. If you are going to splurge, spend it on wheels and paintwork for the gas tank and fenders. That's what everybody looks at first.
Gather Ideas and Form a Plan Before You Start
Read magazines, look at online forums, check out the lineup of customs from the very best to the simplest home-built bikes. Every style has something to offer, so make a short list of the features from each one that most appeals to you. Choppers, bobbers, cruisers, café racers, each style has something to offer.
Considering all that, and ruling out the features you don't want, will refine your thinking.
Set a Budget and Time Frame
One thing is guaranteed, learning how to build a motorcycle will cost more than you think it will. There is always a tool or piece of equipment that you have to buy, or some part that you can't fabricate easily yourself.
Set some milestones, too. Maybe take a month to formulate a plan and get it on paper, even if it's only a simple drawing and detailed parts list. Then spread out your spending, buying the basics first, like a frame, drivetrain and wheels. Don't buy the smaller items until you need them.
If your build goes sour from lack of time or money, it will be easier to sell a frame and engine assembly than an assortment of unconnected small parts.
There Are Four Ways to Build a Custom Motorcycle
If you think about it, there are only four ways to build your own bike. First, you could simply buy a kit and then paint and assemble all the parts yourself. This might be the way to go if you are uncertain about matching components that will work together and look good.
Second, you can buy a used motorcycle, complete and in running condition, and start customizing it. Many good deals abound in the classifieds. You can save money that way too, because many components of a custom bike don't have to be outlandish, customized works of art. Controls, brakes and many mundane parts will serve just fine on a custom build where the attention goes to bigger, flashier things like fuel tanks, wheels and lights. Spend wisely.
Third, and a very popular way to build your very own motorcycle, is to assemble it from scratch. You can buy each part separately, usually brand new from catalogs or online, and put your machine together piece by piece. It's not a good idea for your first build. You will find abandoned projects like this for sale on a regular basis. Frustration is also a big reason people give up on projects.
Fourth, you could buy one of these abandoned projects and make it work. If you have a good amount of mechanical experience, this might be a real money-saving idea to consider. Just make sure the collection of components suits your vision of the end product you want to achieve.
You Need Space to Work
A one-car garage is enough, but anything less will be difficult to work with. It's just not a good idea to leave your bike out in the open because weather can turn sour at any time.
Yes, people have built bikes in their living rooms, but it's not recommended.
Enlist Help in These Three Areas
Welding, painting and electrical systems are the biggest areas bike builders usually need help with. Plan to learn what you can, but know that your first attempt might not be attractive, or safe in the case of welding.
Be smart and budget for expert assistance with critical components.
Plan to Ride Your Finished Creation and Then Sell It
Yes, some people like the build experience so much they sell the finished product to get funds for a second, better, more customized build.
So as you learn how to build a motorcycle and design your first project, keep in mind resale value when you choose components and themes. Plan ahead.