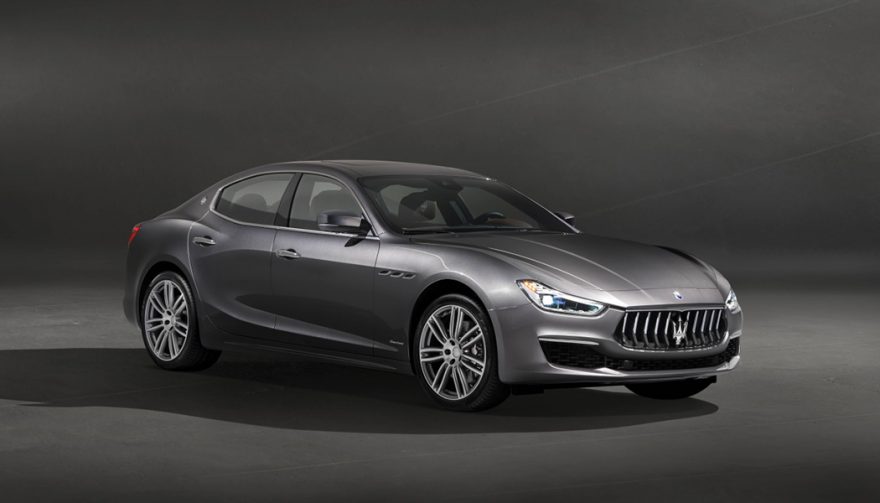 2018 Maserati Ghibli GranLusso
Maserati Ghibli: Everyman's Trident Gets Effective Upgrades for 2018
The 2018 Maserati Ghibli mid-sized luxury sedan made its debut in August at the Chengdu Auto Show in China. Hoping to boost flat sales, Maserati introduced the GranLusso and GranSport trims which replace the existing Luxury and Sport options. Both new trims come with their own set of design and technology improvements.
The Ghibli sorely needed a facelift and infusion of technology.
Launched in 2014, the Maserati Ghibli was introduced to the motoring world as the "affordable" Maserati option. Of course, in the world of luxury automobiles, affordable is a relative term. The Ghibli was priced to lure BMW 5 Series and Mercedes-Benz E class buyers.The strategy was to move those buyers away from the Germans and over to the Italians with these affordable luxury cars.
Except the low, low price of $65,000 wasn't enough to tempt as many upscale buyers as owner FCA had anticipated. As a result, they pulled back production. The Maserati Ghibli was a fine automobile but its design was not considered as refined as the competition's. And as far as technology went,  it was not in the race at all.
Until now.
Sleeked Up, Pumped Up, and Smarter
The changes to the 2018 Ghibli are subtle but address areas that are considered less than competitive. The end result is a sleeker, more refined body with an optional upgrade in power. The interior is luxurious and equipped with upgraded driver assistance programs and infotainment system.
All in all, the new Ghibli is a hot-looking sedan. It puts more punch in the trademark Maserati exhaust tone and adds semi-autonomous features the industry seems to crave.
While the changes to the exterior are subtle, they are effective. On the nose, the new, more rigid grill strongly resembles that of the Quattroporte and Gran Turismo. The front bumper has been tweaked and the back bumper has new rear fascia and a body-colored diffuser insert. These changes streamline the appearance and reduce drag coefficient while improving air flow to the engine compartment.
You May Also Enjoy:
Cadillac CT6 Super Cruise Feature Prepares Us for a Driverless Reality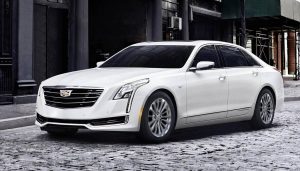 The overall effect is an elegant yet sporty looking ride that will turn heads wherever it goes. It is now obvious that this mid-size sedan comes from the same talented Maserati design studio that perfected the sculpted Italian look of the flagship Gran Turismo.
Ferrari Powerplant Upgraded
The base model comes with a twin-turbo 3.0L V6 that generates 345 horsepower and 369 lb-ft of torque. Coupled with the 8-speed automatic transmission, the base can get to 60 mph in 5.3 seconds and has a top speed of 163 mph.
But there are options. The turbo-charged V6, co-developed with Ferrari, cranks out 404 horsepower and 406 lb-ft of torque. This allows the rear drive version to hit 60 mph in 4.9 seconds and achieve a top end of 172 mph. That same engine, tied to the transmission on the all-wheel model, cuts the 0-60 time to 4.6 seconds and tops out at 179 mph.
And for the fuel-efficient-minded luxury car consumer (is there such a thing), the Ghibli offers up a turbo-charged V6 diesel. The first diesel ever in the Trident lineup. The U.S. version will generate 271 horsepower and an impressive 423 lb-ft of torque. It can get to 60 mph in 6.2 seconds and chug right along at a top speed of 155 mph. Not bad for a diesel.
Getting into Driver Assistance Programs
Perhaps the weakest competitive point the Ghibli has suffered from since its inception was its lack of technology. Rain sensing wipers and a USB slot are not exactly cutting-edge features anymore.
This has changed for 2018. Maserati has packaged its new technology as two separate, yet integrated systems. At the heart of any responsive software program is an electrical steering system. Maserati has dumped its legacy hydraulic steering in favor of a new steer-by-wire system they are calling Electric Power Steering (EPS).
Having electronic steering allows for the integration of responsive Advanced Driving Assistance Systems (ADAS). In the Maserati Ghibli, those advanced systems include lane tracking, active blind spot assist, adaptive cruise control and traffic sign recognition. A new rearview camera is part of the package as well, along with rear cross traffic alerts.
In addition, it's going to be easier to drive this sedan in the dark. The 2018 model features adaptive full LED headlights and glare-free Matrix high-beam control for optimal illumination.
Classy Interior Remains…Well Classy
Maserati pretty much left the interior the way it was, and that's not such a bad thing. The dash is contemporary looking even with its cluster of analog instruments. The upholstery is elegant Ermenegildo Zegna silk. If that isn't your bag, upgrade to a fine-grain, buttery leather. There are  two audio systems available, including a 15-speaker Bowers & Wilkins set-up.
What still needs work is a cabin design that gives a little more legroom and headroom for taller drivers and passengers.
Maserati brags that the Ghibli, which has only been around for about four years, is the best-selling vehicle in their history. We think that might be because you can buy two of them for the price of one Quattroporte or Gran Turismo. It's kind of like saying ground beef outsells prime rib. We're not comparing this slick Italian luxury sedan to hamburger, but we wouldn't imply that this is the best car Maserati has simply because it's the cheapest.
As to price, we don't know yet what the 2018 Maserati Ghibli will go for. We know that when it launched in 2014 it had a MSRP of $65,000. Last year that number hovered a bit over $72,000.
Maserati says the new Ghiblis will arrive in showrooms sometime in the fall of this year. If you have a dealer near you, a quick visit to see this Italian automotive sculpture might be worth your time.