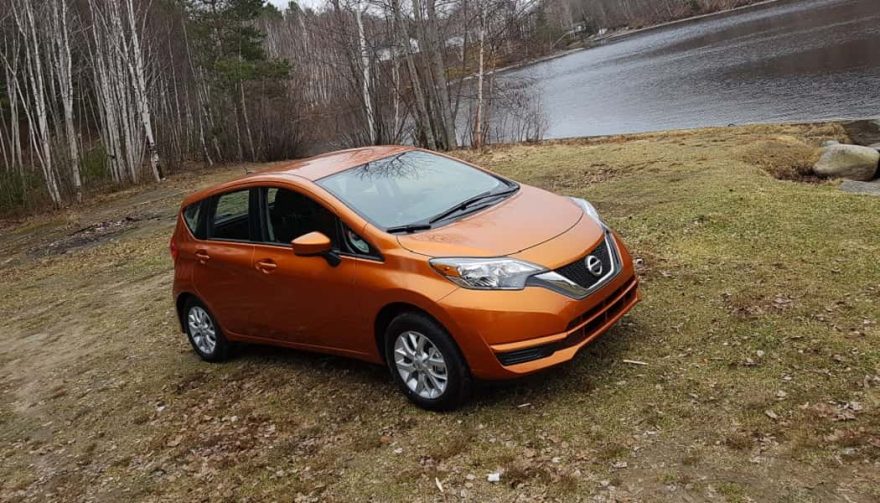 The Nissan Versa Note has a surprising amount of interior space
Nissan Versa Note: Don't Be Fooled, It Has Space and Features to Spare
Refreshed and enhanced for 2017, the Nissan Versa Note looks more alert than ever. The updates have made the hatchback even more appealing for folks looking for a thrifty runabout.
Don't be fooled either, for a compact car the Versa Note is bigger than you think. It's also flexible and handy, and it doesn't cost an arm and a leg.
At First Glance
The new grille brings that signature Nissan styling element into the model range. Its sharper and more angular appearance gives it a more distinctive and upscale air.
The SV-grade tester shipped with 15-inch alloy wheels, and came finished in a highly advised signature orange paint job. Chrome is used effectively but subtly, and deep character lines tie the body together with a sophisticated look.
On the Inside
The interior impresses less with its appearance and more with its features and functionality. The materials, switchgear and interfaces are on par for the segment. However some areas, like the climate control console and power mirror adjustments, are showing their age. Contrast stitching, accenting and adding various textures help supply some visual pop inside.
Our tester was the value-grade SV trim with a five-speed manual transmission. At a $17,000 starting price, it comes with a few surprising features, such as a backup camera, leather-wrapped steering wheel and heated front seats.
The more basic Nissan Versa Note S ($15,000) offers up must-haves like standard air conditioning, Bluetooth and split-folding rear seats. The sportier Versa Note SR ($19,000) adds 16-inch wheels, fog lamps, synthetic suede seats, a roof spoiler and side sills and more. The top-of-the-line Versa Note SL ($20,000) adds navigation, push-button start, fog lamps and an around-view parking monitor system.
It's Got Room
On board, space and the flexibility to accommodate various combinations of passengers and gear are the car's strongest assets.
Rear seat legroom is very generous. Even in instances where a very leggy driver has their seat in the full rearward position, an average-sized occupant behind them will have knee room to spare.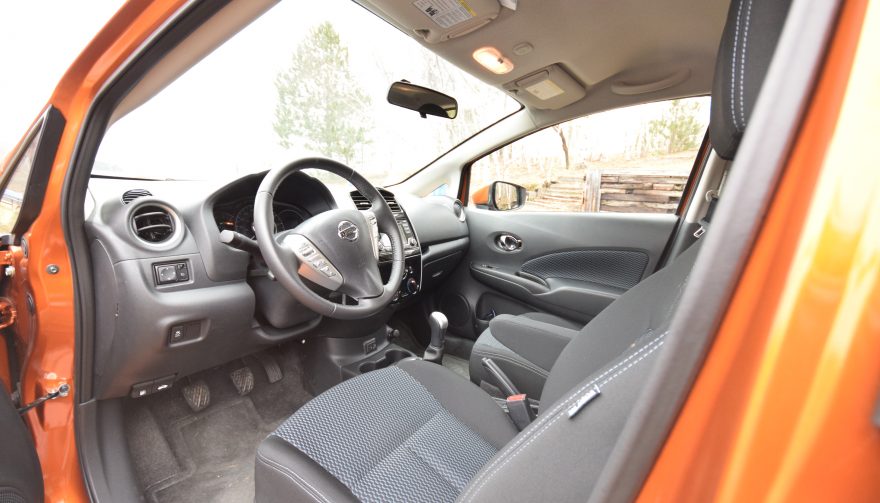 The driving position is upright and alert, and with the height-adjustable seat cranked all the way down, even taller drivers will find headroom in abundance. Further, the low-mounted center console opens up space around front occupant knees, bolstering the sense of space. Obviously, it's not the best car for tall drivers, but it has space.
Entry and exit are a cinch, thanks to thin rocker panels, a low floor and wide-opening doors. All said, here's an easy compact car to get in and out of, and one with a surprising level of space, even for occupants of above-average proportions.
To the rear, the cargo area is somewhat shallow. However, the rear seats fold fully flat if needed. There's also a solid folding panel that allows the cargo area floor to be re-jiggered into various height positions.
That same panel can be used as a folding divider, easily matching cargo carrying capability to the job at hand. Small cubbies at the outer edges of the cargo hold are a great touch. They can be used to keep smaller items secured in place.
Under the Hood
A 1.6-liter four-cylinder with 109 horsepower comes on all trim levels. It's enough to move Nissan Versa Note around briskly when drivers stand on the throttle and get it spinning fast. Overall power output, though, is sufficient, and little more, at lower revs.
The engine runs with a smooth character when operated gently. Sportier drivers will appreciate the powerplant's relative refinement and decent sound quality when pushed a little.
The shifter has long throws and feels ropey and imprecise. However the shifts themselves are easygoing and require minimal effort. Further, the clutch has an appreciable level of feel and bite to it, and shouldn't let manual transmission enthusiasts down. It feels like a proper clutch, not a glob of warmed mayonnaise.
On the Road
Ride quality is another asset. With cheaper cars the suspension can feel and sound delicate on rough roads. The suspension on the Nissan Versa Note feels fairly durable and quiet.
Highway noise levels were appreciated too. It's not a Cadillac, but noise levels at highway cruising speeds are kept nicely in check by small car standards. There's little need to raise your voice for chatting.
Maneuverability is decent, but the turning circle may prove larger than expected from a small car. The backup camera adds confidence during tight-quarter maneuvering. A wider image angle would be nice though.
Minimal Gripes
Given pricing and context, complaints are mostly minimal. Certain panel gaps and materials look and feel low budget. There are some small and unfinished plastic edges visible on close inspection. The same goes for exposed bolts that mount the seat to the floor. Finally, the factory headlights are adequate, nothing more. Consider a lighting upgrade if you'll frequently be out and about after dark.
A covered center storage would be great, but there is a fold-down armrest, which is often missing from cars in this price range. If you have arms, which is likely, you'll appreciate it.
Ultimately, a few elements dull Versa Note's appeal slightly, though it remains a car with many strengths and few weaknesses. It stands on its own as a compelling small car choice when shopper priorities include abundant spaciousness, flexibility, easy entry and exit, and good all-around driving dynamics.
Just be sure to test-drive the Nissan Versa Note alongside a comparably priced Honda Fit, which has a more modern cabin, a more powerful engine, and even more clever storage and cargo-carrying flexibility implements. The Honda is more upscale overall, but it did leave me wishing for a quieter ride, both at speed and on rougher roads, where the Versa Note didn't.
Neither compact will dissatisfy, and both represent the big value manufacturers use to wow shoppers in the popular small car segment.