3. Dodge RAM 2500
The RAM 2500 is another choice to go as it can tow up to 15,500 pounds. It runs with 400 pound-feet of torque with a gas engine or 650 pound-feet when using a diesel engine. The gasoline engine can still handle about 10,000 pounds of weight but it is best for those who want more support to use the larger diesel engine.
The truck is designed with a sturdy suspension system to keep it intact while in motion and will not wear out all that easily. This also comes with dual rear wheels to add a little extra support for towing heavy weights. A Crew Cab model with a shorter bed will use single wheels on the rear. This vehicle also comes with a comfortable and sturdy interior that is spacious and can even fit up to four people for an extended period.
4. Dodge RAM 3500
Related Search Topics (Ads)
The RAM 3500 is from Dodge's popular line of heavy-duty pickup trucks. This uses a 6.7-liter Cummins diesel engine that can tow about 23,000 pounds. The strong steel frame and the new transmission on the RAM 3500 particularly make it easy for you to carry heavy weight. In addition, a rearview camera is included on the roof of the truck to help you line up the hitch on the back with your trailer.
5. Ford F-450
The F-450 is another choice from Ford which also has a strong towing capacity. This uses an engine-braking feature to slow the truck down and, like the F-350 Super Duty, uses a 6.7-liter V8 turbo-diesel engine. This runs at 400 hp and 800 pound-feet of torque. It can carry about 17,500 pounds at a time which pairs well with a payload maximum of close to 5,400 pounds to keep the truck running with more weight on it.
View on One Page
You May Also Enjoy:
The Nissan Titan Project Basecamp Is the Ultimate Overlanding Machine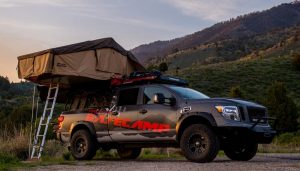 Related Search Topics (Ads)