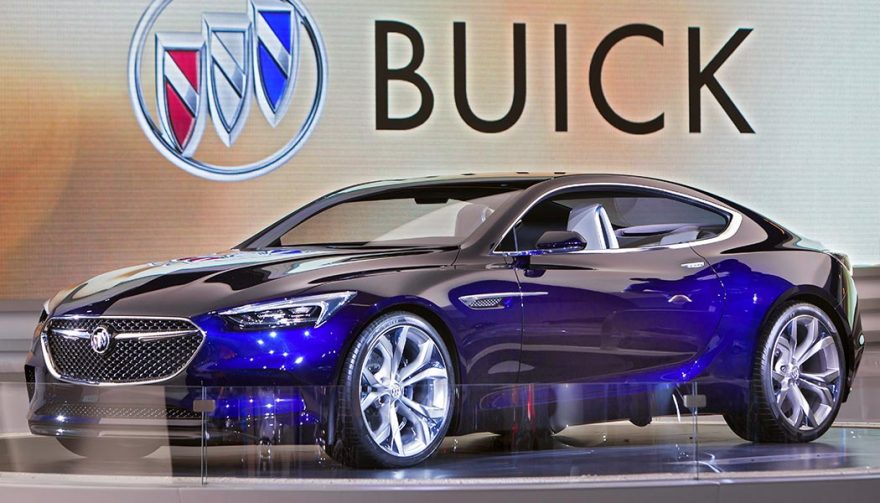 Concept cars are the product of designers given free reign to create
Amazing Concept Cars Debut at 2016 Auto Shows
Everybody loves an auto show right? All that gleaming metal (or carbon fiber or some other exotic material), dazzling exterior colors, amazing interior designs and awesome electronics on display just begging for you to visit your local dealer's finance department to arrange 60 easy payments. It's almost a Vegas style show complete with attractive presenters whose sole purpose is to grab the right side of your brain and infect you with an irresistible desire to get a bright shiny new vehicle for yourself.
But the superstars, the real brain candy of any auto show, are the concept cars.
Concept cars are the product of designers who are given free reign without being weighed down with little inconveniences like minimum safety standards, EPA ratings and regulations, cost of production, or even physics. Sure manufacturers will want to feature their latest technology but they will add a dash of steroids to get the consumer's imagination in gear. In fact some concept cars will closely resemble the production version when it comes out in a year or so but the biggest stars are the ones that are total teases. These are the too good to be true concept cars that will never see a production line.
The Best Concept Cars … so Far
There have been a number of major shows so far in 2016 so we thought we would bring you some of the best of the concept cars displayed to date.
Buick Avista
Let's start with a teaser. Buick's Avista is a beautiful grand touring coup 2+2 that reminds you of European designs but still retains a distinctive American character. The Avista's sleek lines and sophisticated accents are matched with a 3.0 L V6 with 400 horsepower and an 8 speed transmission that will guarantee to have more old ladies saying "That's not a Buick."
Flowing and elegant are the two words that best describe the Avista. The body lines flow front to rear, the mesh grille features the new flying three shield badge and the headlights incorporate lighting elements that illuminate the edges to create 3-dimentional shapes. Inside reeks with sophistication with a cantilevered center stack, premium leather seats, wide instrument panel display, and exposed carbon fiber and aluminum trim. It's gorgeous…and it will never be built. Buick says, "The Avista embodies the dynamic soul of Buick," but apparently that soul will not be gracing the roadways anytime soon.
You May Also Enjoy:
Test Drive: 2019 Kia Telluride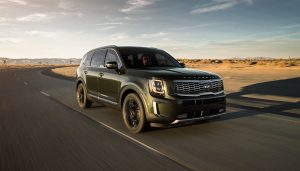 The Telluride – Kia is all grown up
Signaling a new direction for Kia, the Telluride is an all-wheel, 7 passenger, technology loaded, luxury SUV that in this concept car at least, focuses on the comfort of the second row passengers. The Telluride is based on the Sorrento except it is longer, wider, taller and more muscular in appearance. Equipped with a 3.5-liter V6 engine and a powerful electric motor to produce 400 horsepower that gets 30 mpg on the highway, Kia is betting luxury, technology and efficiency will be a combination hard to beat.
The concept car however, creates an image of a wealthy businessman who needs a vehicle he can totally relax in after an international flight and still has room for his minions to ride along. The second row seats come complete with leg rests, sensors that can monitor the passengers' vital signs, and a wing-shaped LED panel mounted beneath the sunroof. The LED panel displays a pattern of therapeutic light to treat desynchronosis (jetlag) and improve energy levels. It is after all a concept car.
DIY or be Chauffeured – The Nissan IDS Concept Car
Nissan looks way down the road to the time when autonomous cars will be a reality big time. The IDS allows the driver to control the vehicle conventionally or switch to pilot mode and let the car drive itself. In conventional mode the interior is designed to help the driver focus on the road but when pilot is selected the steering wheel and pedals retract and the seats turn to face each other for better communication between passengers. The IDS is connected of course and can provide recommended departure times, routes and restaurants along the way.
Nissan Winter Warrior – Extreme Snowmobile or Serious Winter Weather Vehicle?
Unfortunately for Nissan there wasn't much snow at the Chicago Auto Show this year which put a damper on demonstration opportunities of their concept Winter Warrior vehicles. Essentially the three Winter Warriors consisted of a Pathfinder, Murano and Rogue whose wheels had been replaced with triangular tracks. The suspension and some underpinnings have been modified to accept the 30 inch high and 15 inch wide tracks, but aside from a special bright red wrap with track marks running diagonally across the rear panels they are stock vehicles. Nissan says they are not toys, that they are serious vehicles with real commercial applications. While we don't expect to see Nissan actually build these they are an interesting idea for aftermarket companies.
Is It Coming Back? – The Opel GT Concept
The European branch of GM displayed this concept Opel GT at the Geneva show and it looks a lot like the 1970 Opel GT sports car only sleeker, slicker and probably more reliable. When we say slick we mean no side view mirrors or door handles to interfere with wind dynamics. It's small, it's light, it's a two seater (of course) powered by a turbocharged 1.0L engine that puts power to the rear axle via a six speed transmission controlled by paddles on the steering wheel. In 1965 Opel showed the world the Experimental GT and three years later the Opel GT hit the showrooms. If this a repeat of that strategy we hope they make a version for the North American market to give the Mazda MX5 some competition.
Concept cars are a real gas…even if they run on hydrogen or some other exotic fuel. They give manufacturers a chance to show off their ideas and to get feedback from consumers, enthusiasts and of course the press. Concept cars are just another reason to never miss an auto show near you.