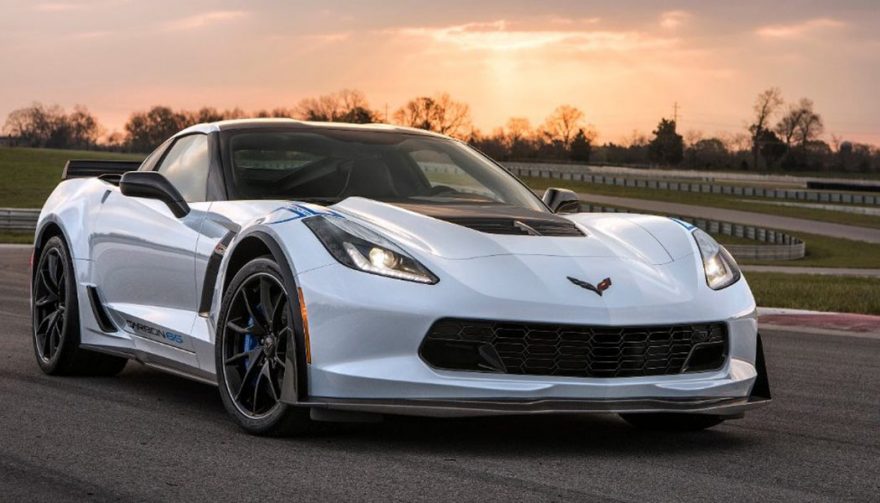 The Corvette Z06 has a 6.2-liter V8 capable of 605 horsepower
Top 10 Fastest Cars Under $100K for 2018
Sure, there are a handful of cars faster than these, but they are mostly vehicles we will never get the opportunity to drive. That doesn't mean scorching speed is out of our hands, as this list of the fastest cars under 100K proves.
Our list also includes cars that are available in the American market, because 'Merica. And last but not least, we're talking about the fastest cars under 100K, not the quickest. That means it's not acceleration that matters but top speed.
So now that we've got all that out of the way, here are the fastest cars under 100K for the 2018 model year.
2018 Chevrolet Corvette Z06
Long revered as one of the top performance cars for the price, the Corvette continues to assert dominance in 2018. The Corvette Z06 package is a 650-horsepower behemoth thanks to its supercharged 6.2-liter V8 that delivers a 0-to-60 in under 3 seconds.
But since we're talking fast and not quick, acceleration doesn't matter. The 2018 Chevrolet Corvette Z06 qualifies with a top speed of…well, we're not sure. All they're telling us is "in excess of 200mph." So we do know it's one of the fastest cars under 100K. You can get it with a starting price of under $80,000.
2018 Alfa Romeo Giulia Quadrifoglio
You've heard a lot in 2017 about Alfa Romeo, and that's because they've made themselves interesting. The 2018 Alfa Romeo Giulia Quadrifoglio (or QF) is a balls-out, hard-running luxury sports sedan from the Italian side of FCA. It's got all the goodies inside for a comfy ride, but it's what's under the hood that matters most.
A twin-turbocharged 2.9-liter V6 pushes 505 horsepower and 441 lb-ft of torque. Sounding like a cross between a tuner and a supercar, the Giulia QF unwinds quickly and tops out at 191 miles per hour. It starts at just $72,000.
View on One Page
You May Also Enjoy:
The Best Sports Cars Under $100K